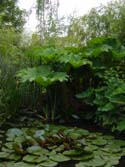 29th April - 28th of May 2006
Come and visit our traditional outdoor exhibition/market :
"Pots meet Plants"

Either woodfired or gaz fired, all pots exhibited are always hand made by local potters. You will find the pot you are looking for, from traditional planters to unconventional garden decorations and of course to go with the pots, a lot of trees, flowers and vegetables plants !
Open all day and every day from 10a.m to 7p.m.